Local, Sustainable & Organic Meal Prep
We aim to help busy individuals nourish their bodies
At mademeals, we believe our food choices can change the world. We aim to help busy individuals nourish their bodies, regenerate the environment, and contribute to their community through healthy, high-quality prepared meals.
How? Each time we eat, we have the opportunity to help create a better food system. Our food choices impact everything from our own nourishment to their greater effects on the environment and local community. We want to empower our customers to make choices that will positively affect their health, the environment, and the treatment of farm animals.
While we understand that busy schedules make it difficult for us to maintain constantly mindful of what we eat, our mission focuses on these four key factors to conscious eating, so that you can leave all the hard work to us:
Using high quality ingredients
While it can be difficult to spot if the ingredients in grocery stores or restaurants are high-quality or responsibly grown, our prepared meals are made using only the highest-quality foods. We are committed to using local, non-GMO, and almost entirely organic foods; responsibly-raised and hormone-free meats; and sustainable seafood.
Regenerating our land
Regenerative Agriculture describes farming and grazing practices that, among other benefits, reverse Climate Change by rebuilding soil organic matter and restoring degraded soil Biodiversity. By building our menus around crop rotations that work best for farmers and supporting responsible growing practices, we help support the replenishment of farm soil while reducing reliance on pesticides and fertilizers.
Reducing food waste
With food waste totaling up to 40% of everything produced in the US, we are committed to addressing this issue and have shaped our business in a way that reduces our food waste to virtually zero. By taking our orders in advance, we only source the ingredients required to produce a week of meals at a time. Any leftover produce is composted or donated to local food organizations for distribution to those in need.
Giving back to our community
Our mission would not be complete without the inclusion of community involvement. Food preparation can also be a vehicle for change in society, by providing stable jobs and opportunities to those in most need of employment. That's why we've partnered with other reentry programs that reintegrate formerly incarcerated individuals, to hire and train them as our loyal staff. This fully-capable and willing workforce deserves a second chance at success, and we aim to help provide them with that opportunity.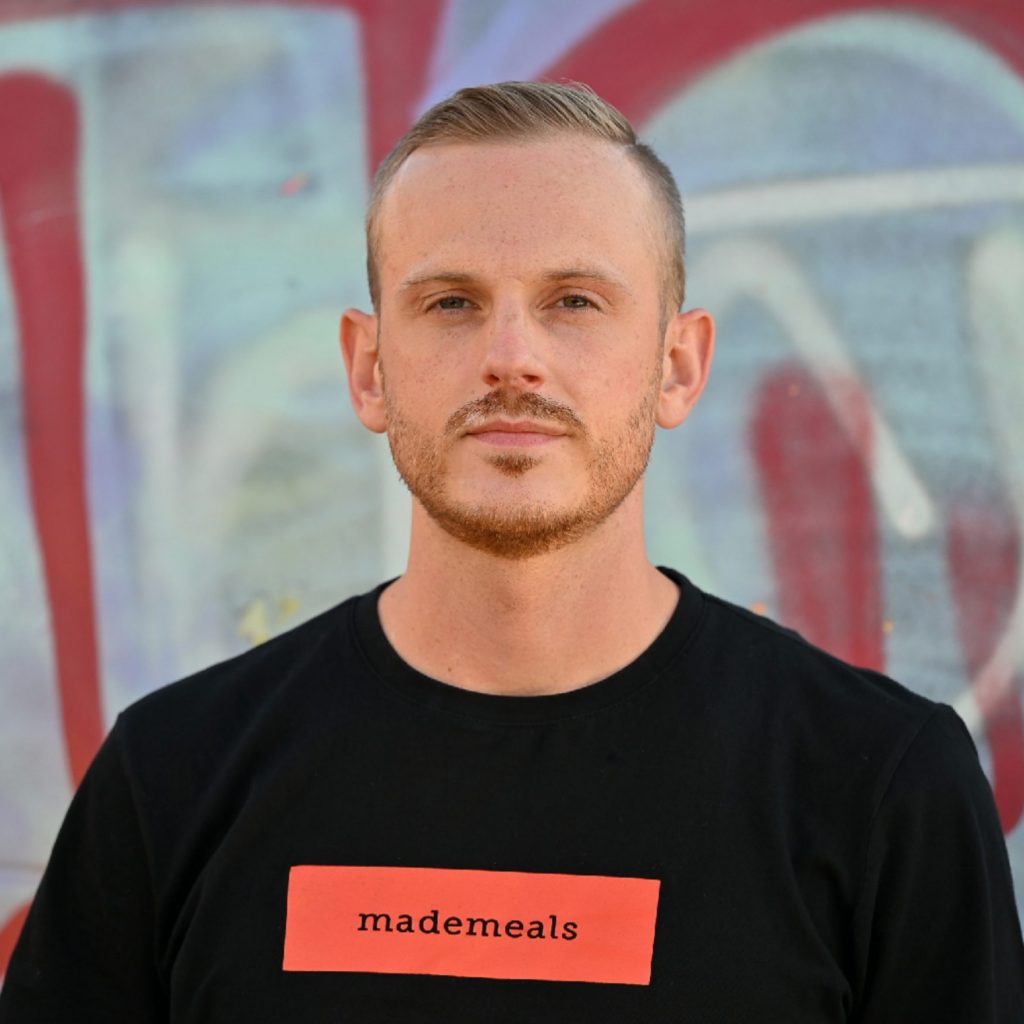 Jesse
Hi!
My name is Jesse. I'm the founder of mademeals.
The seed for my business was planted in 2016, after I was diagnosed with mild ulcerative colitis, (an inflammatory gut condition).
It was at this point I began to examine what I was eating more closely. I started trying to improve my diet, going mostly gluten and dairy-free, and searching out organic produce, wild-caught fish, and antibiotic & hormone-free meats. But finding the time to plan and prepare meals in a more mindful way was a challenge.
And thus, mademeals was born.
Our mission is to help our customers eat mindfully by delivering fully prepared meals made that are ready to heat and eat each week.
We source our ingredients from a network of over 200 local, organic and humane farmers, and support regenerative farming practices. We prepare everything from scratch at our commercial kitchen in NJ, and deliver the meals weekly, chilled (not frozen), to the doorsteps of our customers in Hudson & Bergen Counties and NYC.